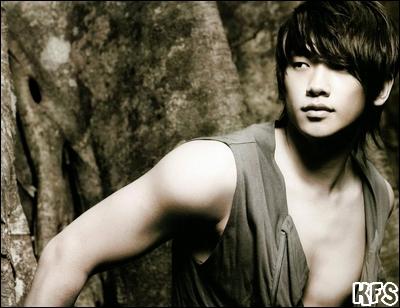 Bi Rain
Ce chanteur qui utilise le nom d'artiste de "Rain" (ou "Bi" en coréen) est actuellement l'une des plus grandes superstars de la musique en Asie. Comme beaucoup de personnalités asiatiques, Rain fait de tout; du cinéma, de la musique, et du mannequinat.

Biographie :
Nom : Bi Rain
Nom Réel : Jeong Ji-Hoon / 정지훈
Date de Naissance : 25/06/1982
Chronologie :
Il a commencé sa carrière à l'âge de 10 ans seulement et il était déjà membre du fanclub d'un boys band. Mais sa carrière débute vraiment lorsqu'il devient danseur pour la célèbre chanteuse coréenne Park Ji Yoon. Depuis 2002, Rain a à son actif déjà 6 albums, et tous ont remportés un franc succès dans toute l'Asie, dont l'album en japonnais 'Eternal Rain' est le témoin. L'album "It's raining" sera quand à lui vendu à plus d'un million d'exemplaires en Asie. En 2005, Rain a commencé son "Rainy Day Tour" en Asie et tous ses concerts ont remportés un énorme succès. Succès d'ailleurs couronnés dans tous les domaines comme en témoignent les nombreuses récompenses qu'il accumule, d'artiste masculin de l'année, à l'award d'honneur en passant par les classements tels que les 100 personnes les plus influentes au monde ou le Top 10 des artistes asiatiques.
Discographie :
Albums :
Bad Guy - 2002
How to Away from the Sun - 2003
It's raining - 2004
Rain's World - 2006
Eternal Rain (Japonais) - 2006
Rainism - 2008
Singles :
BMW Meets truth – 2006
Sad Tango – 2006
Free Way – 2006
Move on – 2006
Rainism collection - 2009
.